Fall is past and winter is here.  Fall is fun and winter is well . . .an ordeal to be endured.  One reason I find winter so hard (aside from the lack of sun, the kids indoors all the time, the boots, coats, scarves, hats, coats, and mud that collect at my back door, and aside from my memory telling me that I used to live in Florida and visit the beach during the winter. ) Aside from all that, I don't like my wardrobe.
In summer, I wear flippy skirts and espadrilles.  In summer I can dress in jeans, a thin cotton tunic, and cowboy boots.  In summer I wear bright prints and light layers.
Then winter comes and the stores only carry the colors brown, dull brown, grey, grey mixed with brown, textured grey, and that ugly solid red sweater.  A red sweater that would stop traffic–not for looks, but because I would look like a great big WARNING sign.
There are lovely clothes out there in the mall, but the loveliest winter clothes out there in the mall–the ones that aren't so bulky that I look like a muddy snowman,  the ones made with natural fibers instead of acrylic that just make me sweat and become a stinky, muddy, snowman, the ones that come in colors other than brown, grey-brown, and solid red (in which I become a muddy, stinky, snowman trying to stop traffic)–those clothes (sigh) those clothes cost too much for Mommis who have to pay for piano, soccer, basketball, christmas gifts, birthday gifts, sock and undies, and shoes and food for four kiddos.
BUT!
I have learned one thing from attending fashion trade shows.  And this one thing is encouraging not discouraging.  Everybody at the trade show (both customers and exhibitors) looks fantastic.  "Okay," you are saying, "Duh!  These people are fashionistas, or models, or something."  But here is the thing of it.  A lot of these "fashionistas" are moms and grandmas and aunts.  I have seen ladies with long silver hair, and ladies with short silver hair.  I have seen ladies that look like this "O".  And ladies that look like this "I".  And I have seen young girls with flawless skin and older ladies with smile lines.  I have seen red hair and freckles and dark skin and kinky hair.  I have seen long skirts and extremely short skirts.  I have seen long hair and extremely short hair.  And without exception EVERYONE looked great.
So it can be done even if I look like this "O" and have smile lines and have mousey brown hair.
But how?
And for how much?
Let's try.
Step 1:  Take a shower.  Okay.  That seems SOOOOOOOOOOOO! rude to say, but reality is that it sometimes is hard to find the time to jump in the shower.  And reality in this "one car, one income, one bathroom family" is that the bathroom is a meeting place.  When I jump in the shower, a sign appears on the door that says, "Mommi isn't busy, so now is a good time to ask her a question or get in a fight or be hungry"  And then there is that whole issue of food preparation.  Anytime I think I have finally finished up and have a few minutes, I look at the clock, and it is time to start another meal.
Step 2:  Get a good bra.  Sorry.  Had to say it.  Remember, bras have to defy gravity everyday of their life.  And gravity is a very strong force, ergo bras get tired of lifting the weight of . . .well never mind "the weight of" part.  The point is elastic looses its elasticity and gravity begins to win the battle.  Cheap bras can make you look cheap, so spend the time and the money and win the war against gravity.
Step 3:  Don't worry.  We have moved away from the personal.  I won't discuss showers and bras again.  Step three is you need two basics–a pair of knee-high boots and a pair of jeans (or jean skirt.)  Around these we can build an outfit.  It is hard to build an outfit around tennis shoes and sweat pants.
A little advice on jeans.  It will take you about 50 tries to find a pair you like.  But before you buy 8 of the pair that finally fits, take them home and wear and wash them.  Jeans fit differently after wearing them and washing them.  I find I have to buy my jeans a little on the snug side as they seem to stretch out as I wear them.  You might find that the pair of jeans you loved in the store shrinks in the wash to "uncomfortable."  Rule: wash and wear before buying another pair.
About boots.  I have a confession.  I have sweaty feet.  And sweaty feet not only get smelly, but they also get cold.  And when my feet get cold, I am apt to complain about how I had to move from my lovely Florida and its beaches to blue-collarville with its overweight Walmart people.  (Sorry.  That was mean.)  SO, I find I need real leather for my boots.  That means they cost a fortune.  I shop for boots in nice department stores in early March.  That is the only way I have found boots I can afford.  Kohls also has some real leather or suede boots and Kohls offers good sales and discounts, so you can also try them.  If you know of another place to get real leather, knee-high boots, please let us know.  Everyone looks good in leather, knee-high boots.  (The heel height can be low to high, both looks work.)
Step 4:  It doesn't matter how good it looks on you, if it isn't warm you will never wear it.  At least that is what happens to me up here in the state of Long Winters.  My mom is from New Orleans, and genetically, I am predisposed to live in a warm climate.  I tend to always be cold, and when I am cold, I tend to grab my Hunni's UW sweatshirt to wear, and I tend to not look so great in an XL, holey sweatshirt, and when I don't look good, I tend to not act good.  (Sorry grammar people about that sentence.)
Step 5:  If you have to dry clean it you won't wear it.
Step 6:  If you have to tug at it to keep it in place, or pull at it to cover, or  if you have to be careful when you bend over in it, or if it requires any type of aerobic activity to keep it where you want it, you will never wear it.  Even if it was on the Clearance rack for $6.00.
Step 7:  Land's End and LL Bean are wonderful places to buy quality goods.  I love both of them.  I shop at both places.  However, they tend to stock only solid color articles of clothing.  A wardrobe of only Land's End can start to look like, "Today's color is. . . ."  Just a thought.
Step 8:  I have no idea what I am talking about so ignore everything I say (and type.)
Step 9:  Leggings.  They are much warmer than nylons.  They look good under a skirt with rounded-toe flats.  You can get cable knit leggings.  You can get imitation jeans leggings.  You can get leggings with a lace "cuff" at the bottom.  And all of them are warmer than nylons.
Step 10:  Look.  The next time you are in the doctor's office and that Smartly Dressed mom comes it, don't just think, "She looks better than I do."  Look at what she is wearing.  Look at her hair.  What shoes did she pair with her outfit.  Maybe, just maybe, you have something similar in your closet.  Maybe, just maybe, you need to grow out your bangs.  Maybe, just maybe, you could cut bangs.  Maybe just maybe, it isn't her outfit at all, but that she is smiling.
Okay, so here is the idea.  I would like to put together 6 outfits for $60.00.  And I would love some help.  Just like the Mystery Grocery Box Series, I am asking for some brave souls to volunteer to make an outfit for $60.  Now I love shopping, and this is the best kind of shopping because it doesn't require spending any money.  Just brose the internet for a combination that costs under $60.
Now I know some of you have some flair, so I'd love some help.
6 for $60–Combo #1
We are assuming that everyone owns a pair of jeans or a jean skirt.  We are also assuming that everyone has a pair of knee-high leather boots.  The rest you have to fit into the budget.
Here goes.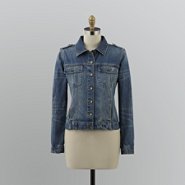 Kmart $16.19 jean jacket available online.  They still have sizes S,M, and L in stock–but no XL.  The jean jacket has some "distressing", so it may or may not be in your style.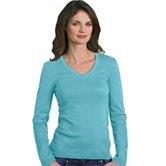 Sam's Club.  Available in all sizes and colors.  $9.98
Now the T-shirt I just bought from Sam's Club just like this has an Eddie Bauer label.  I don't know if the one available online is also Eddie Bauer, but I love mine, and I paid $9.98 for mine.  Mine is 58% Cotton, 39% Modal, and 3% Spandex–a good combination.
"Modal is a type of rayon[1], a semi-synthetic cellulose fiber made by spinning reconstituted cellulose, in this case often from beech trees."  (From Wikipedia)
It is also available in a crew neck.  I prefer V-necks because I am "well invested" and the V-neck cuts up the space to give me less of a "busty" look.  You may prefer the crew neck.
Colors: Black, White, Cameo Blue, Tango Red, Ecru Stripe, Paprika Stripe, & Castle Rock Gray
Available in sizes: S-XXL
Fabric Content: Cotton modal blend
Care Instructions: Machine wash with like colors
Target Mossimo Supply Co. 24.99  Now this sweater skirt is 100% acrylic.  Not my favorite, but workable.  (I love the colors here, and even though there is no Cameo Blue in the sweater skirt, it goes with the Cameo Blue in the T-shirt.  It is in the same color family.)
Now this handy-dandy blog post tells you how to make a wrapped sweater skirt from a thrift store find (plus 4 other things from the same sweater.)
This blog uses fabric glue to help you make a sweater skirt.  (You can make the sweater skirts longer.)
This blog makes a sweater skirt with a tie.
And here is one more tutorial on sweater skirts.
Just a little more info on the sweater skirt from Tar-jay.
Sizing: Junior Sizing  with a Casual Fit
Rise: Regular
Material: 100  %  Acrylic
Closure Style: Elastic Band Closures
Garment Length: Above Knee
Hem Style: Ribbed Hem Hems
Care and Cleaning: Machine Wash Cold, Dry Flat
  These Old Navy tights look good, but they are 100% Acrylic.  I would just get cold in these–not to mention the fact that acrylic fibers retain odors.
These $11.21 tights from Sierra Trading Post (b.ella Cialia) are of Merino Wool.  They are Closeouts and therefore only have size S and M.  They do have some leggings available in all sizes but they aren't a natural fiber (might work though $9.75).  Target also has some cable-knit leggings that are 100% cotton (GLO).  They are $12.00 and are in the Junior section, but fit me (L).  They only have grey, black, and off-white and this outfit needs coffee-colored leggings.
Spice up that sweater dress or layer under leggings with b.ella's Cialia tights, made with a cute, cable-knit design and supersoft, temperature-regulating merino woolfibers.
Cable-knit design
Itch-free merino wool is temperature regulating, moisture wicking and odor resistant
Touch of nylon and spandex for shape retention and comfort
Made in Italy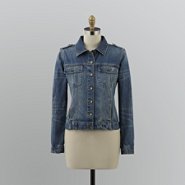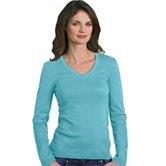 So that is my $60 outfit.  Jean Jacket $16.16.  T-shirt $9.98.  Sweater skirt $24.99.  Wool tights $11.21.  Total = $62.37.  Okay, I am a little over, but print out a coupon for Target here.  If you decide to make your own sweater skirt, you could also save money.  There are other longer skirts out there (a plaid would look fantastic), but they were all out of the budgeted price.
Psst!  The brown leather boots are a steal at $88.45
I'd love to hear your thoughts on my first edition of 6 for $60.  Now who would be willing to try some online shopping and creating an outfit for $60.  I'd love some different points of view.  Here are some things I tried to keep in mind.
natural fibers if at all possible.
sizes available for a broad range of people (i.e. a great find but only if you wear size 2)
online (I love the store Steinmart, but they don't have an online website.)
something a mom could wear grocery shopping, or at the basketball game, or out for lunch or even just around the house.  (i.e. real clothes)
no neon.  We already tried that in the 80's and now we have to hide those pictures
modest.  Face it.  Most of us look better covered up.
warm.  Remember, it is winter (except for in Florida and California and we will just ignore their palm tree and sunshine for the next 6 months.)
Thanks for stopping by, and if you would be willing to brave a "6 for $60" post,  just say so in the comments section.
–rebecca